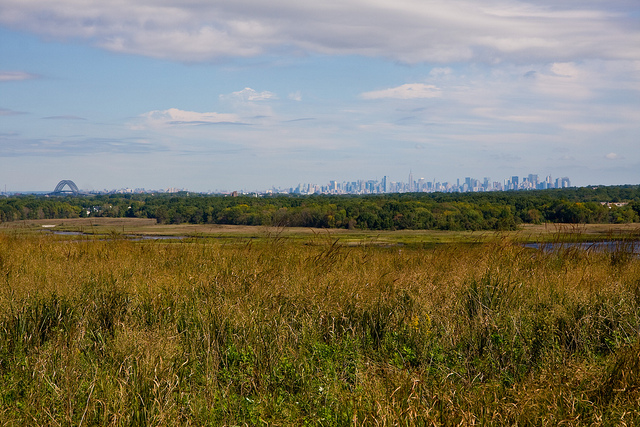 A tiny Manhattan skyline seen from Freshkills Park in Staten Island. Photo by Garrett Ziegler/Flickr.
Fresh Kills, once the world's largest garbage dump (2100 acres), was located in Staten Island. It still is, only now it's a park.
To many, wetlands like Freshkills were considered valueless because they were not well suited to development. This prevailing attitude led to the creation of major landfills across the country throughout the early and mid-twentieth century — including Fresh Kills. In October 2009, New York City launched an ambitious 30-year redevelopment plan that will turn this once notorious dump into a multi-use park. The timing couldn't have been better — when Hurricane Sandy hit four years later, the park helped buffer Staten Island from an even worse hit. Now it's more clear than ever that wetlands are critical to protecting urban areas in the face of extreme weather.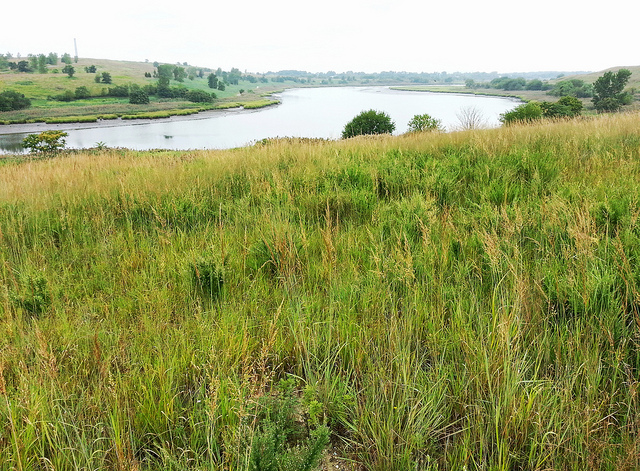 A newly reclaimed wetland in Freshkills Park, Staten Island. Photo by Matt Green/Flickr.
At 2,200 acres — three times the size of Central Park — Freshkills Park will be the largest park developed in New York City in over 100 years. The park will have five main areas: The Confluence (made up of Creek Landing and The Point), North Park, South Park, East Park and West Park. Creek Landing is the place to be for boating, sunbathing, and relaxing picnics. The Point has enough space to accommodate sports fields and a long promenade for social meet-ups. North and South Parks have vast acres dedicated to bike trails, recreational activities, and, of course, amazing views. One of the biggest parks, East Park, will have vegetated space, wetlands, an education area, and playing fields for informal pickup games. West Park, the biggest of the five, will house a 9/11 memorial with a direct line of sight to lower Manhattan.
The Department of Parks & Recreation operates free bus tours of the Freshkills Park from April through November of each year. Space on tours is limited, and reservations are required.
Upcoming Events and Available Tours for 2014
April 27, 2014: Hawk Watch at Freshkills Park 11:00 a.m. – 4:00 p.m.
September 28, 2014: Sneak 'Peak' at Freshkills Park 11:00 a.m. – 4:00 p.m.
You can also watch The Freshkills Story, a documentary about the transition of Fresh Kills Landfill to Freshkills Park.
Businesses Mentioned Above
[blankslate_pages id="d53a09a3e696b1″ type="card" show_photo="true" utm_content=""][/blankslate_pages]