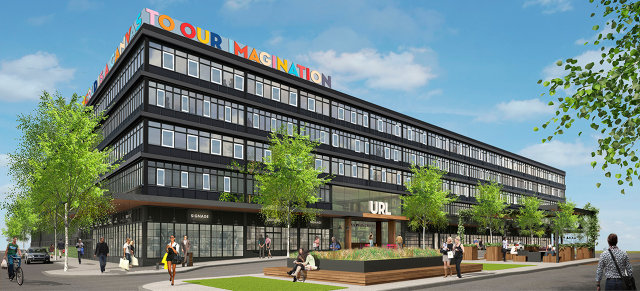 A rendering of URL building | via Fast Company
Let's face it, it's pretty expensive to live in New York City. Rents are rising and population is growing, but according to an article in Fast Company, Ironstate Development is trying to solve these problems. Their new project, Urban Ready Living (URL) — set to open in 2015, will provide spaces for young, professional artists that are looking for a more affordable place to live. URL will feature studios and 1- and 2-bedroom apartments with a projected range of $1,600-$2,400 per month, averaging about $45 per square foot.
Urban Ready Living will bring people to Staten Island and make it a new hot spot. How? URL will offer amenities that some of the most expensive Manhattan apartments don't even come with. There are plans for an outdoor pool, a community garden, shared work space, a waterfront esplanade, more than a dozen retail and restaurant spaces, a huge gym with a yoga studio, a café lobby, and excellent waterfront views of Manhattan. Some other plans include space for performances, a gallery, or an open kitchen.
With upgrades to the Staten Island Ferry service, Stapleton Esplanade's redevelopments Empire Outlets and New York Wheel, and URL, Staten Island is on its way to be the "hippest, most diverse waterfront neighborhood in the city."