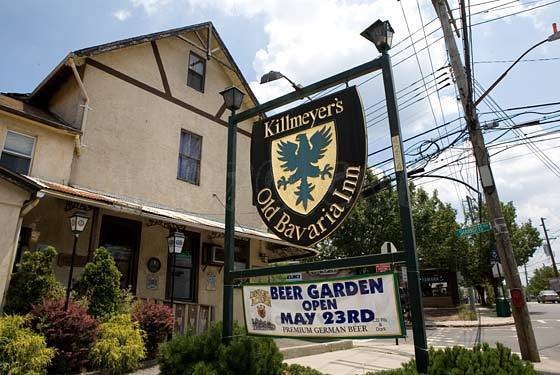 Killmeyer's Old Bavaria Inn present day

History runs deep at Killmeyer's Old Bavaria Inn. Some claim that parts of the building date as far back as the 1700s. The first ferry between Manhattan and the North Shore was established in 1747, and the Declaration of Independence was signed in 1776, so it stands to reason that a few troops may have tossed back a beer or two here. Or maybe not.
Killmeyer's has changed hands, as well as names, several times. While no one knows what it was called back in the 1700s, as early as 1907 it was Killmeyer's Hotel. The name changed to Rube's in the mid-1900's, followed by The Century Inn until finally, in the late 90s, it was semi-restored to a version of its original name: Killmeyer's Old Bavaria Inn. It's not every beer hall that can boast such a long and winding history.
Located on the West Shore of Staten Island, the inn is best reached by car, which will be a test for the designated driver as there are over 100 beers to try. In fact, there are so many beers that they've started a beer club to help you track what you've tasted. Zum Bier Club membership comes with weekly discounts, beer tastings, and a ceramic stein to show off to your friends.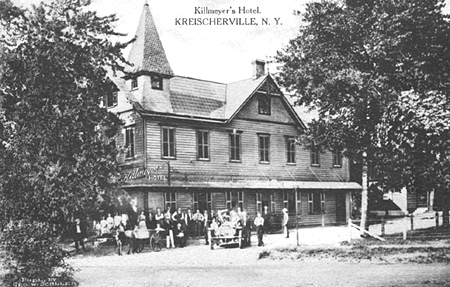 Killmeyer's Hotel, now Killmeyer's Old Bavaria Inn, circa 1907
The plentiful beer options are perfect for washing down traditional German food like potato pancakes, smoked fish, Bavarian wurst, Auflauf (German casserole), Wienerschnitzel (and several other of the schnitzel family), and Sauerbraten, to name just a few. Killmeyer's is great for groups of any size. There's a large outdoor beer garden, and, if you prefer the indoors, a beautiful mahogany bar dating from the 1890s. If you go on the weekends there's bound to be live music.
And Oktoberfest, which, despite its name, begins in September, is always just around the corner!
Businesses Mentioned Above
[blankslate_pages id="d53a07dfb6f680″ type="card" show_photo="true" utm_content=""][/blankslate_pages]