Staten Island's Snug Harbor Cultural Center is a great place to learn about Staten Island's history and culture, but it's also worth a visit for its sculptures.
Icon II | Wally Gobetz via Flickr
Icon II 
This Tuscan red, reinforced concrete sculpture in the shape of an hourglass, designed by Seena Donneson. The ten-foot-high sculpture weighs 8,000 pounds and was cast and donated in 1978 by Grow-Kiewit-MK Tunneling Corporation. It has been located on Snug Harbor's West Lawn since it was dedicated in 1980. The artist has had previous works exhibited by the city including her Nova Series III outside the Goldwater Hospital on Roosevelt Island.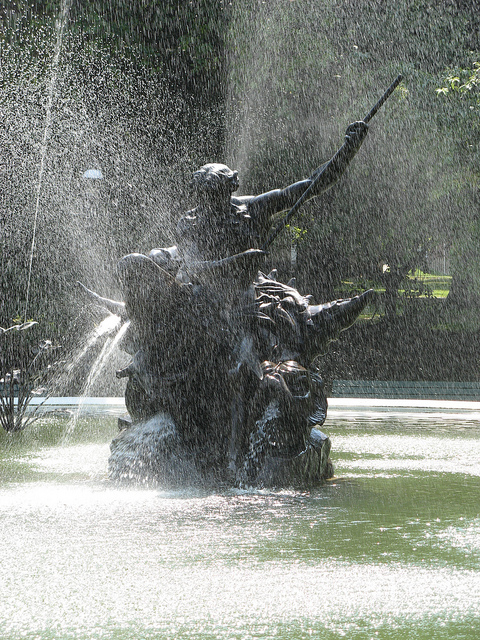 Neptune Fountain | Andrew Batram via Flickr
Neptune Fountain 
Neptune Fountain depicts Neptune with a trident in hand, atop a serpent he is preparing to strike. The sculpture was designed by Quennell Rothschild Associates and was cast in 1892 by John W. Fiske Iron Works. To cut down on costs, they used zinc and painted bronze instead of iron, which caused it to deteriorate over the years. In 1994, after losing his hands, an arm, and a foot, Neptune was recast by the Modern Art Foundry in Queens. Today, the original statue is on view in the visitor's center.