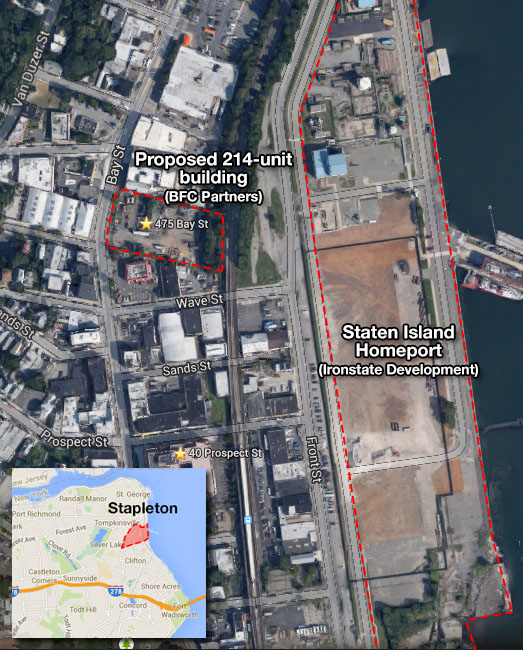 The real estate market in the Staten Island neighborhood of Stapleton continues to heat up. As the old Navy Homeport site is being transformed by the NYC Economic Development Corporation and Ironstate Development Company into the New Stapleton Waterfront, developers are snapping up nearby land in anticipation of a revitalized neighborhood.
According to New York YIMBY, BFC Partners is the latest developed to join in the fun. They recently filed a permit to build a 214-unit apartment building at 475 Bay Street, right across the Staten Island Railway tracks from the Homeport site. What comes next remains to be seen, but following are some of the details and educated guesses from the article.
— BFC Partners hired Edelman Sultan Knox Wood Architects to design the building, which would feature 162,000 square feet of net residential space and 9,000 square feet of retail space.
— The building will be eight stories tall, and rise to 70 feet. The low ceiling heights may be a hint that the building will be another affordable housing project. (BFC Partners built the Rail nearby at 40 Prospect Street — another affordable housing project.)
— The land isn't currently zoned for residential development — only low-density commercial and industrial use. Given the city's enthusiasm for development in the neighborhood, however, it would not be surprising if BFC Partners were to be granted a variance, or even a rezoning.
Whatever happens, this is exciting news for Stapleton, and for Staten Island. With high-end retail, new housing options, and a waterfront park to rival those in Brooklyn and Manhattan, Stapleton in 10 years will be barely recognizable.