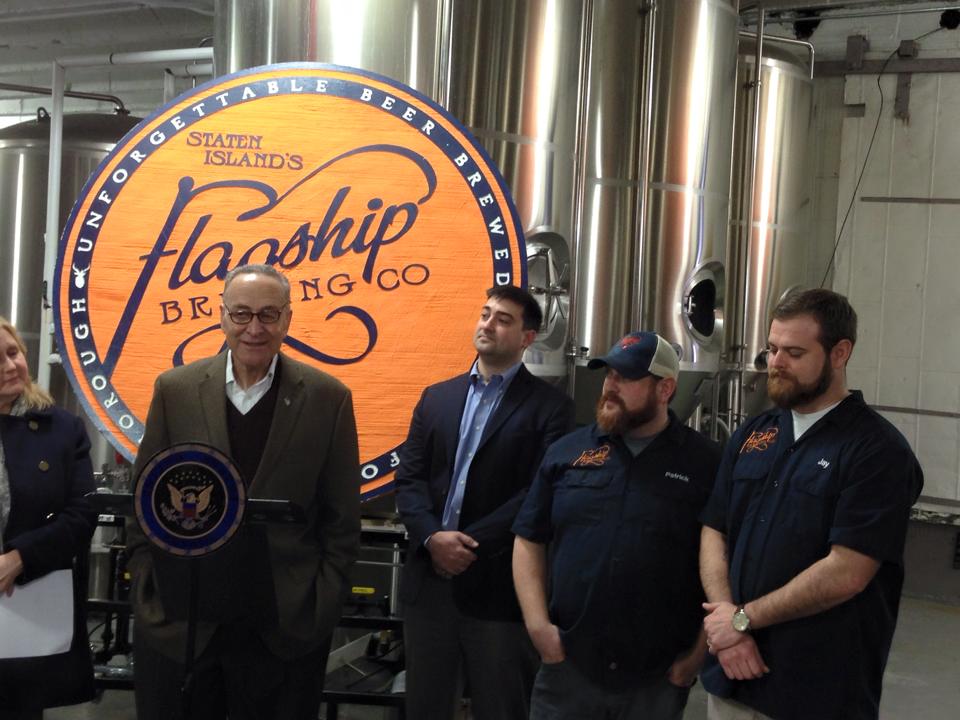 Senator Chuck Schumer visiting the brewery | Flagship Brewing Co via Facebook
The Flagship Brewing Company, located in Tompkinsville, is a Staten Island craft brewery made by Staten Islanders, for Staten Islanders. Flagship is one of the many dedicated local breweries that have emerged in New York City in the last decade — Brooklyn, The Bronx, and Queens all have local breweries, but it's hard to match the local passion that the Flagship boys have for their home borough.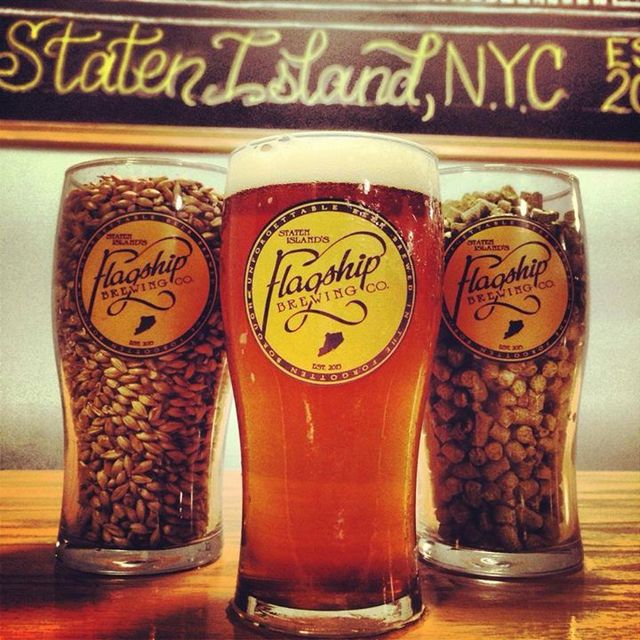 Flagship APA | Flagship Brewing Company via Facebook
How to get there: Flagship Brewery is conveniently located right across the street from the Tompkinsville stop on the SIR, and it is a 12 minute walk from the Staten Island Ferry.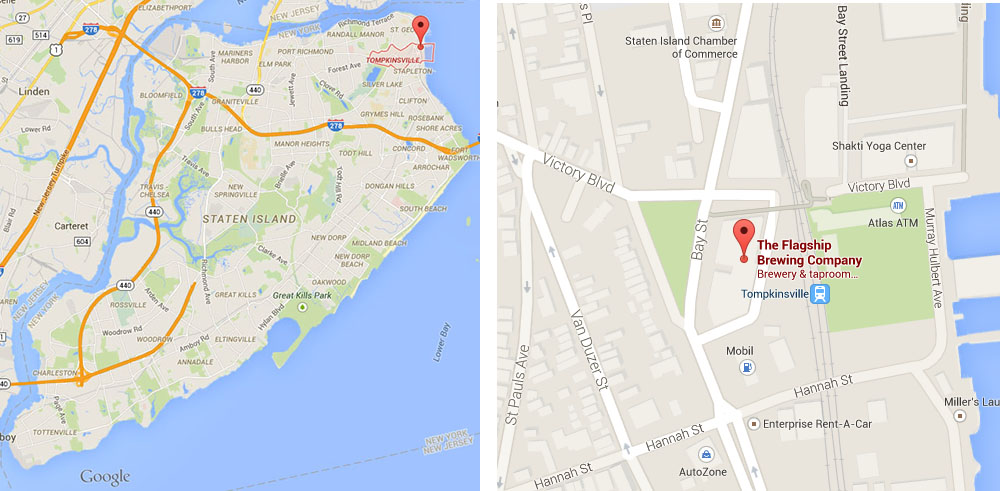 If you're driving from Manhattan or Brooklyn, take I-278 W and the Verrazano-Narrows Bridge, take the exit toward Bay Street from the bridge, and take Bay St to Minthorne [GMAP]. The drive from lower Manhattan is about 40 minutes without traffic.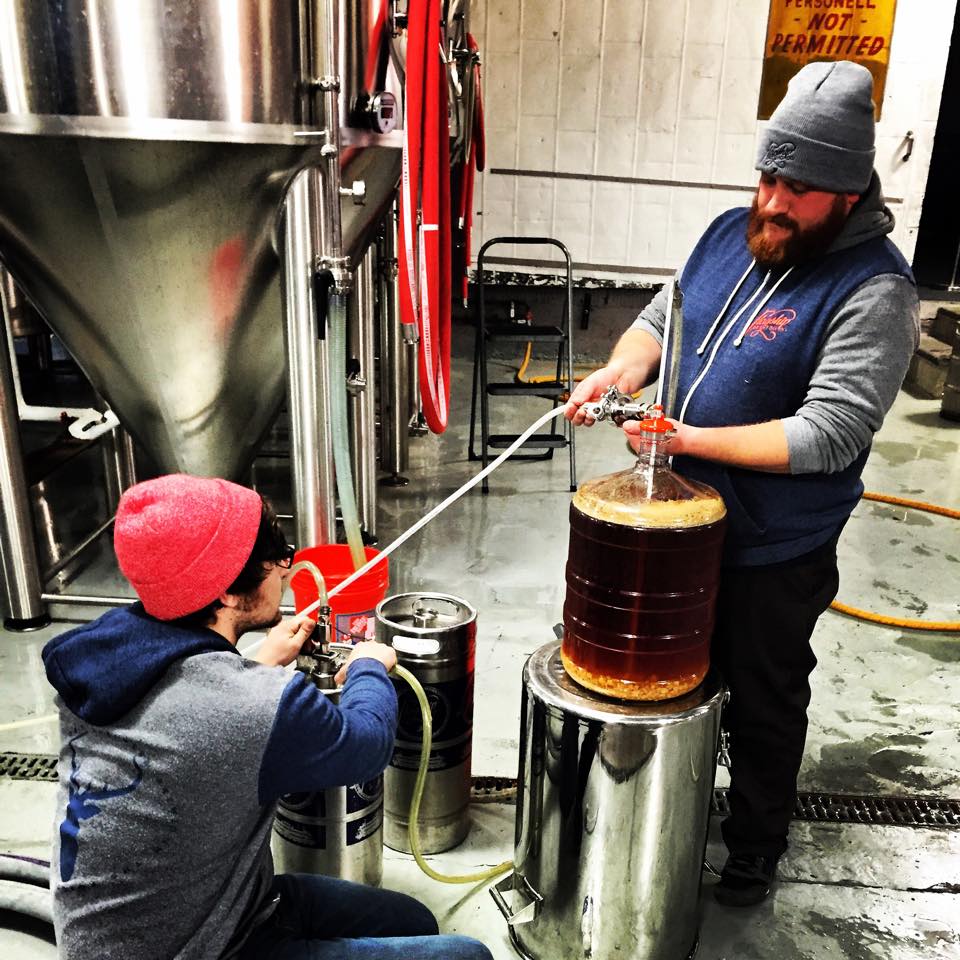 The boys working on a rye lager | Flagship Brewing via Facebook
What to do: The brewery has multiple offerings, as well as seasonal brews: Flagship APA (American Pale Ale), Flagship American Whit, Flagship Dark Mild, Flagship Roggenfest (fall season), and Flagship Wee Heavy (winter season). Their tasting room hours are Thursday and Friday 5-11 p.m., Saturday 2-11 p.m., and Sunday 1-8 p.m.
Flagship also hosts parties, comedy shows, live music, and much more. Be sure to check their calendar to plan your next visit.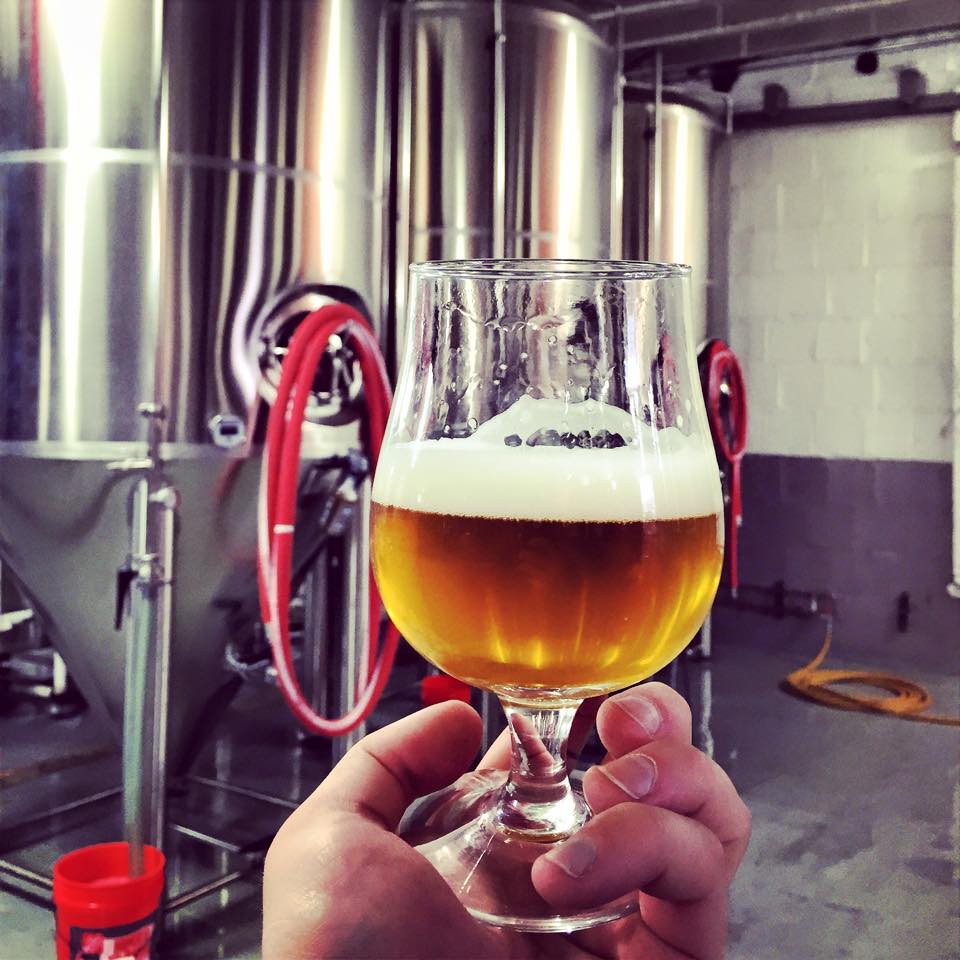 Stag Series Vienna Rye Lager | Flagship Brewing Co via Facebook
What to do after: Tompkinsville is home to shopping, live performances, great eats, relaxation, and more–all within walking distance of the brewery. Check out the business below for ideas of what to do and where to eat. For more ideas, check out our guide to Stapleton, the adjacent neighborhood to the southwest.
Nearby Tompkinsville Destinations
[blankslate_pages id="d53a0de18ebfe9, d54b549e2cc93d, d53a076c31336c, d54b54c3b764ce" type="card" show_photo="true" utm_content=""][/blankslate_pages]