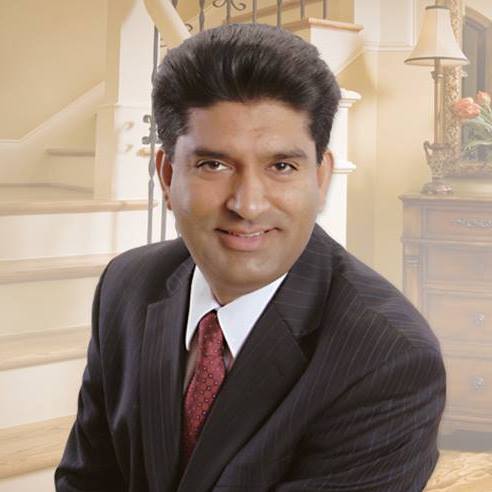 Dil Gillani, president of SIBOR
STATEN ISLAND, N.Y. (May 29, 2015) – Fighting for all current and prospective American home and property owners, more than 8,500 Realtors® gathered in Washington, D.C., earlier in the month to urge action on various real estate issues during the 2015 REALTOR® Legislative Meetings & Trade Expo.
Representatives of the Staten Island Board of Realtors (SIBOR) joined fellow Realtors® from every corner of the country during the week of May 11 to attend the meetings and visit lawmakers on Capitol Hill.
Realtor® attendees, members of the National Association of Realtors®, focused on several major issues pertaining to both residential and commercial real estate during the legislative meetings.
SIBOR was represented by Dil Gillani, the organization's president; Sandy Krueger, CEO; Claire Bisignano Chesnoff, president elect; Dawn Carpenter; George K. Wonica and Sari Kingsley.
Wonica and Ms. Carpenter are NAR directors. He serves as a trustee of the NAR Realtor Political Action Committee; Ms. Carpenter, New York State Association of Realtors president elect, serves as vice chair of the NAR Property Management Forum. Ms. Kingsley is an NAR Ambassador to Israel, and Krueger serves on the NAR Multiple Listing Service (MLS) Issues and Policy Committee.
KEY ISSUES
Of top importance was opening access to safe and affordable credit for qualified buyers and protecting real estate-related tax policies, both of which are vital to the growth of homeownership and therefore the national economy.
"It is crucial that our lawmakers understand the serious issues that face the real estate industry," said SIBOR CEO Krueger. "Realtors® lead the way in advocating for home and property owners in their communities, and we again demonstrated we can do the same here in our nation's capital with our elected officials."
While in Washington, SIBOR representatives met with Sen. Charles E. Schumer (D-New York) to discuss public policy decisions that will directly affect consumers' ability to buy, sell and own real estate.
Specifically, SIBOR President Gillani and President-elect Chesnoff urged Sen. Schumer to preserve current real estate-related tax policies and extend the recently expired Mortgage Forgiveness Tax Relief Act, which stops distressed homeowners from receiving excessive income tax bills on forgiven home loan debt.
DATA SECURITY
Other pressing matters included patent reform, the creation of nationwide data security standards, and the passage of the Mortgage Choice Act to end discrimination against affiliated lenders.
"Congress is set to take up legislation on several issues in which consumers and Realtors® have a real stake, so it is very important our elected officials know the impact they have on our communities and nation as a whole," said Gillani. "Through the strength of the Realtor® Party, we have made known where we stand on key issues that affect home buyers, sellers and investors right here on Staten Island."
During the week-long conference, Realtors® participated in sessions with a variety of industry experts and government officials who discussed many of the critical housing, mortgage finance and real estate investment issues facing real estate today.
Secretary of Housing and Urban Development Julián Castro provided a housing industry outlook to meeting attendees and referenced credit availability as the biggest hurdle to homeownership.
Consumer Financial Protection Bureau Director Richard Cordray discussed changes to loan closing procedures and documents, stating that the new mortgage rules are in place to educate and empower buyers to "know before they owe."
About The Staten Island Board of REALTORS® (SIBOR)
Approaching its 100th anniversary, the Staten Island Board of REALTORS® (SIBOR) is the largest not-for- profit professional and trade association in Staten Island, N.Y.
SIBOR exists to enhance the ability and opportunity of its members to conduct their business successfully and ethically; and to promote the preservation of the public's right to own, transfer and use real property.
Comprised of approximately 1,800 members, SIBOR serves real estate agents, brokers and affiliated professionals throughout the borough and surrounding areas.
SIBOR is the provider of the Staten Island Multiple Listing Service Inc. (SIMLS), which works as a clearinghouse through which more than 250 local real estate firms exchange information on properties they have listed for sale. Together, its members participate in over 3,000 real estate transactions every year.
All SIBOR members belong to the New York State Association of REALTORS® (NYSAR) and the National Association of REALTORS® (NAR).
SIBOR may be reached at 718-928-3220 and viewed online at www.SIBOR.com. SIBOR may also be visited on Facebook at "Staten Island Board of Realtors" and "SIBOR 100" (showcasing some of the organization's latest highlights and accomplishments), and on Twitter via @SIBOR.
CAPTION: Dil Gillani, president of SIBOR
Media Contact: Barton Horowitz
Relevant Public Relations, LLC
Headquarters: 7186821509
Mobile: 9177158761
Email: Bhorowitz@RelevantPR.com