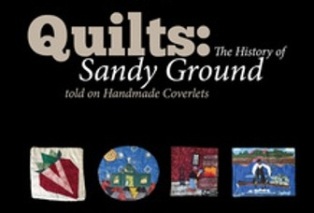 Whether you own or rent Staten Island properties as a resident or business, or are a future home buyer or visitor on Staten Island, you will benefit from a special cultural and educational opportunity available at Borough Hall throughout the summer.
The display "Quilts: The History of Sandy Ground told on Handmade Coverlets" has been on loan to Borough Hall from the Sandy Ground Historical Society Museum since late June. And if you haven't yet stopped by to see it, you're missing a chance to experience a part of the Island's artistic richness and a modern day reflection of the past.
Each of the four quilts represents a different aspect of Sandy Ground's history. The quilts were made by several groups of Sandy Ground volunteers.
Settled in Rossville in 1833, Sandy Ground is the oldest continuously inhabited free black settlement in the United States. The Sandy Ground Historical Society runs a library and a museum on the site. The museum is home to Staten Island's largest documentary collection of African-American culture and history.
Staten Island Board of Realtors (SIBOR)
Media Contact: Barton Horowitz
Relevant Public Relations, LLC
Headquarters: 718‑682‑1509
Mobile: 917‑715‑8761
Email: Bhorowitz@RelevantPR.com