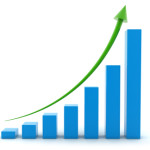 February 2016 –  The primary story, both nationally and in local submarkets, is a dwindling months' supply of inventory. The cure, of course, is more inventory. But new construction has been lagging during this opportune moment, and sellers of existing homes are not yet hitting the market in droves. The heart of the selling season has yet to begin, so we're still optimistically watching for an increase in activity in the coming months.
New Listings in Staten Island increased 13.6 percent to 434. Pending Sales were up 9.1 percent to 287. Inventory levels fell 32.2 percent to 1,436 units.
Prices continued to gain traction. The Median Sales Price increased 4.6 percent to $420,000. Days on Market was down 12.3 percent to 127 days. Sellers were encouraged as Months Supply of Inventory was down 45.2 percent to 4.2 months.
National housing starts were up by 10.8 percent at the end of 2015 when compared to 2014, and the unemployment rate is holding low and steady at or near 4.9 percent. Meanwhile, mortgage rates continue to astound below 4.0 percent and we have witnessed an unprecedented 70 consecutive months of private-sector job growth. As consumers navigate their options, competition for the best available properties should be profound, especially if the market remains hobbled by a lack of supply.
Monthly Indicators
+ 49.0%
+ 4.6%
– 32.2%
One-Year Change in Closed Sales
One-Year Change in Median Sales Price
One-Year Change in Inventory
Click here for full report about the entire Staten Island housing market.
Click links below for detailed housing information on the different geographic areas of Staten Island:
East Shore – Includes data from Arrochar, Grasmere, Old Town, South Beach, Dongan Hills,  Dongan Hills below Hylan, Grant City and Midland Beach
Gateway – Includes data from New Dorp, Oakwood, Oakwood Beach, Oakwood Heights, Bay Terrace, Great Kills and Eltingville
Greater St. George –  Includes data from Ft. Wadsworth, Concord, Shore Acres, Rosebank, Clifton, Stapleton, Thomkinsville, St. George, Ward Hill, Park Hill and Grymes Hill
Heartland – Includes data from Willowbrook, Manor Heights, Bulls Head, New Springville , Heartland Village, Travis and LaTourette.
North Shore– Includes data from New Brighton, Snug Harbor, Livingston, Randall Manor, West Brighton, Port Richmond, Mariners Harbor, Graniteville, Arlington, Bloomfield and Elm Park
South Shore – Includes data from Annandale, South East Annandale, Arden Heights, Rossville, Woodrow, Huguenot, Princess Bay, Pleasant Plains, Charleston, Richmond Valley and Tottenville
The Hills – Includes data from Emerson Hill, Todt Hill, Lower Todt Hill, Light House Hill, Richmondtown, High Rock, Dongan Hills Colony and Emerson Hill
The Lakes – Includes data from Westerleigh, Sunset Hill, Sunnyside, Royal Oak, Silver Lake, Clove Lakes and Castleton