Staten Island Board of Realtors® celebrates outstanding performance during day showcasing many of the latest innovations in real estate products, services and technologies
Staten Island, N.Y. – The Staten Island Board of Realtors® (SIBOR) recently honored its best-achieving members during an awards breakfast at the start of its annual Realtor Day & Trade Show at the Hilton Garden Inn, Bloomfield.
The SIBOR Top Producer Club designations are awarded annually to associate brokers and sales associates for exceptional listing and selling activity. The breakfast was sponsored by Freedom Mortgage®.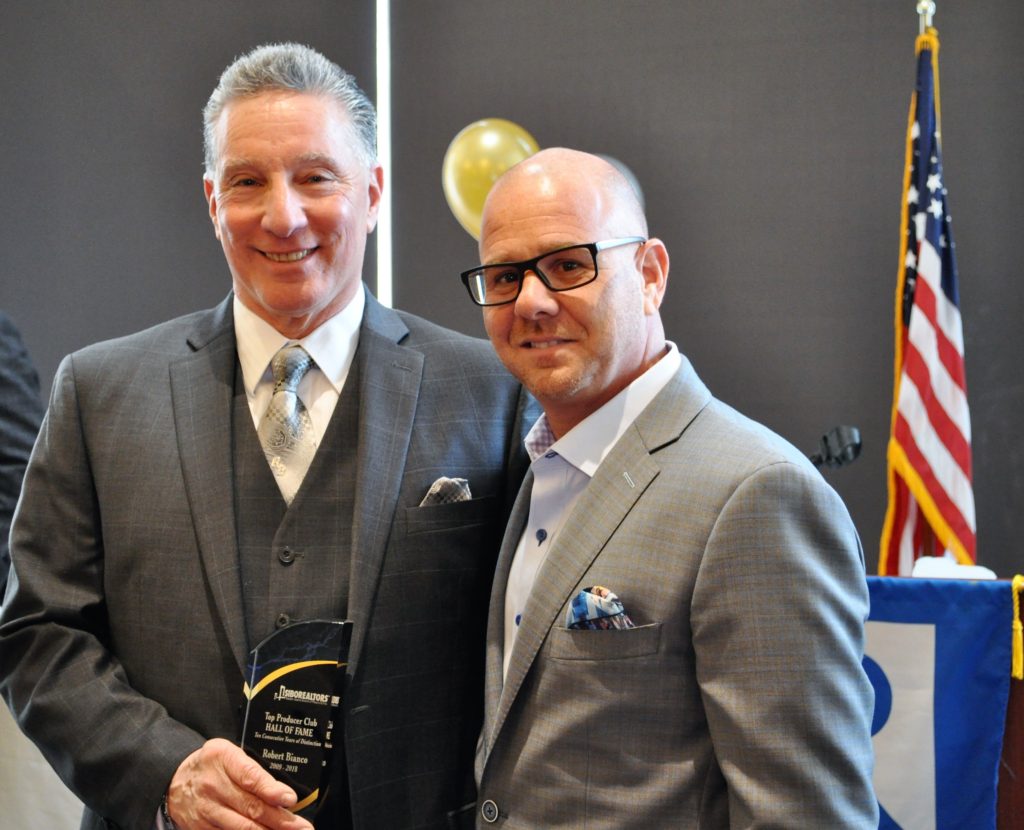 The March 14 awards ceremony was followed by the trade expo, which attracted hundreds of attendees, and scores of vendors who showcased agent-supporting innovations in real estate products, services and technologies.
Among those honored were Robert Bianco, who was inducted into SIBOR's Top Producer Club Hall of Fame, which requires being a Top Producer for a minimum of 10 consecutive years, and Tony Liang, who received the SIBOR Rising Star Award, given each year to the Top Producer honoree with the least amount of time in the industry.
The other recipients of the SIBOR Top Producer Club awards for performance in 2018 were:
GOLD
Albert Benzaken; Chia Chen; Cindy C. Cheung; Kawing Chiu; Raya Daniels; Elizabeth Del Priore; Tiffany Y Feng; Dritan (Tony) Gashi; Maged Girgis; Ann Grande; Matthew Jablonsky; Jessica Matute; Allison Mireau; Nicole Molinini; Anthony Ragucci; Raymond Rong; Francis A. Shearon; Salvatore Taormina; Michele Weidmyer; Joyce Yu; Joseph Zubrycky; Natalia Zukhovich, and the Gary Papirov Team.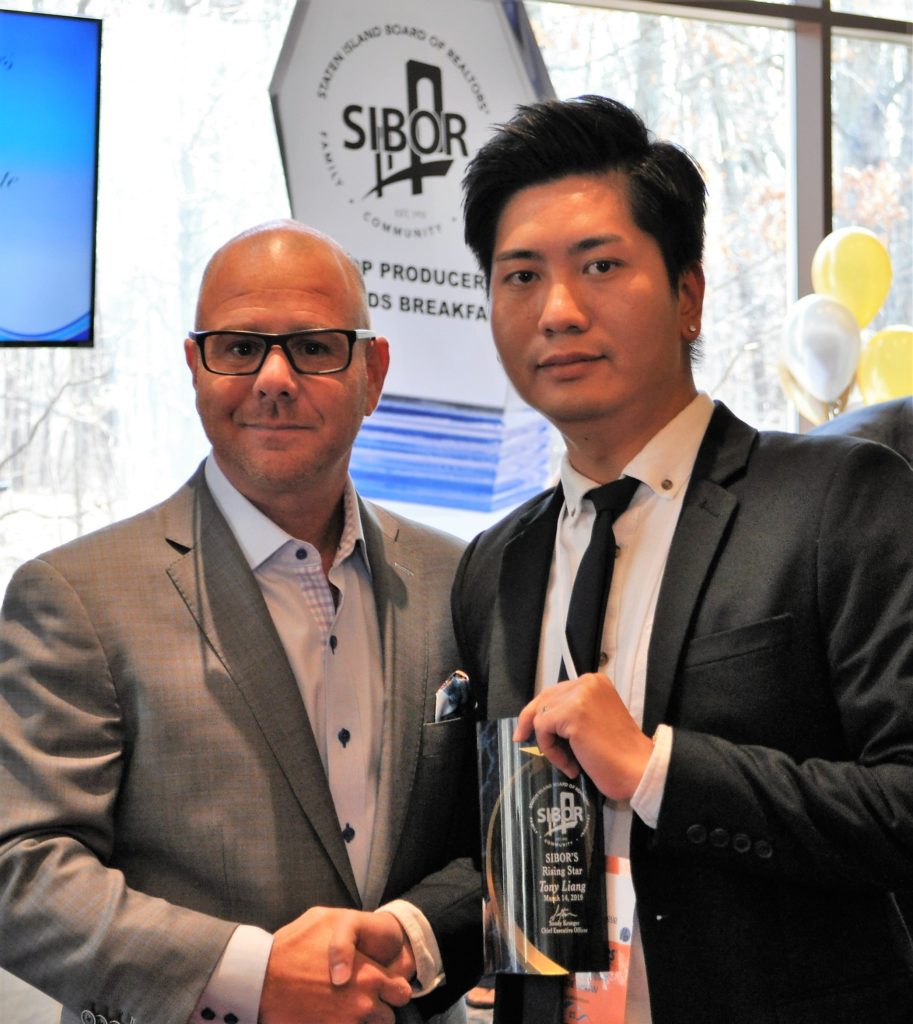 SILVER
Kathleen Barzal; Robert Bianco; Jason Blake; Marc Bruck; Ross Buxbaum; Giovanna Cardinale; Teresa Carmona; Becky B. Chum; Melissa Cosentino; Chanpen Cronin; Anthony D'Alessandro; Cynthia Dgheim; Hong (Agnes) Fong; Ilona Fotiadou-Bludov; Mary T. Giordano; Ronald Guidone; Joseph Haskell; Tianting Huang; Joanna Kaszuba; Vivian P. Kokkinos; Albee Lei; Victor Li; Edmond Lin; Christopher J. Long; Lauren M. Orosz; Svetlana Pascarella; Kristen Petino; Nancy Pezzolla; Eileen Pinto; Margaret Power; Joseph Rodriguez; Michael Santangelo; Miroslava A. Simanovsky; Gail R. Sweeney; Teresa G. Trovello; Laura B. Vallone; Diane Yetman, and the Impact Group of American Homes Group team.
BRONZE
Kevin Adams; Maria T. Albanesi-Cortese; Marilyn Augustyne; Daniel Avissato; Vladimir Barman; Valerie Bartolone; Maryann Batiancela; Mark Boscaino; Frances Brischo; Anthony J. Cammaroto; Sandra Cascio; Hong Ping Chen; Henry Chen; Lori Ciappina; Cristina Dattolo; Andres D. David; Jeannine Del Gaudio; Lin Deng; ; Gina D'Onofrio; Joseph Fedele; Theresa Ferrara; Kristina Gershteyn; Elaine Gil; Kim Goh; Jiayi Hu; Teresa Ieraci; Xiaoxin Jin; Krzysztof Kania; Malic Klobucista; Gabriel Kolendrekaj; Joseph Laino; Josephine Lee; Irene L. Lee; Tony Liang; Dianne E. Lopardo; Joyce Marchione; Mario Minelli; Maurice Molcho; RoseAngela Moore; Jose M. Oropeza; Nicola J. Papandrea; Michele Picciallo; John Roda; Daria Rubino; Jimmy Samaha; Fatmir (Frank) Selovic; Lori Sinagra; Virginia A. Spaventa; Nina Timpone; Nicholas Tortora; Elizabeth M. Walsh; Valerie M. Wonica; Wan Qing Wu; YanFen (Fanny) Y. Yang; Pamela Zappulla; Wei Liang Zhen, and the teams of: Joseph Lebron, Keller Williams Realty Empire SI; McKenna, RE/MAX Elite; Antonio Vega, Tom Crimmins Realty, Ltd.; Finest, RE/MAX Elite; Gaetano Marasa, RE/MAX Elite, and O'Connell of RE/MAX Elite.
The day's sponsors were Freedom Mortgage; Think Mortgage; Citibank; The Law Office of Daniel J. Byrnes, and Cardinal Financial Co.
Realtor Day committee chair was Erica Orlando; Roseanne La Fata served as vice-chair. The 2018 Top Producer Club co-chairs were Matthew Jablonsky and Jessica Matute.
About the Staten Island Board of REALTORS® (SIBOR)
Established in 1915, the Staten Island Board of REALTORS® (SIBOR) is the largest professional association in Staten Island, N.Y.
SIBOR exists to enhance the ability and opportunity of its members to conduct their business successfully and ethically, and promote the preservation of the public's right to own, transfer and use real property.
Comprised of more than 2,000 members, SIBOR serves real estate agents, brokers and affiliated professionals throughout the borough and surrounding areas.
SIBOR is the provider of the Staten Island Multiple Listing Service Inc. (SIMLS), which works as a clearinghouse through which more than 250 local real estate firms exchange information on properties they have listed for sale. Together, its members participate in over 5,000 real estate transactions every year.
All SIBOR Realtors belong to the New York State Association of REALTORS® (NYSAR) and the National Association of REALTORS® (NAR).
SIBOR may be reached at 718-928-3220 and viewed online at SIBORREALTORS.com. SIBOR may also be visited on Facebook at "Staten Island Board of Realtors" and on Twitter via @SIBOR.
###
Media Contact: Barton Horowitz
Relevant Public Relations, LLC
Headquarters: 7186821509
Mobile: 9177158761
Email: Bhorowitz@RelevantPR.com