While Halloween decorations are beginning to adorn homes on Staten Island and across the country, the real estate market this fall is looking far from scary.
The Staten Island housing market in September 2019 revealed that new listings increased 11.9 percent as compared to the same period a year ago; pending sales remained level at 326, and inventory levels fell 1.6 percent, according to newly released statistics from Staten Island Board of Realtors® (SIBOR).
Prices on the Island continued to gain traction in September. The median sales price increased 2 percent to $560,000. "Days on Market" was up 17.1 percent to 92 days. Buyers felt empowered as "Months Supply of Inventory" was up 4.9 percent to 6.6 months.
Nationally, buyer and seller activity remained strong, buoyed by low mortgage rates and a strong economy. The market fundamentals suggest no significant changes from recent trends, other than the seasonally tempered pace we see this time of year.
As we move into the final three months of 2019, buyers nationwide will find fewer homes coming on the market, but also less competition for those homes. 
The best time to sell anything is when demand for that item is high and the supply of that item is limited.
The latest Existing-Home Sales Report released by the National Association of Realtors (NAR), reveals that demand for housing continues to be strong, but the supply is struggling to keep pace.
THE EXISTING-HOME SALES REPORT
The most important data revealed in this report was not actually sales. In reality, it was the nationwide inventory of homes for sale (supply). The report explained:
Total housing inventory at the end of August decreased 2.6% to 1.86 million homes available for sale.
Unsold inventory is lower than the 4.3-month figure recorded in August 2018.
This represents a 1-month supply at the current sales pace.
According to Lawrence Yun, Chief Economist at NAR,
"Sales are up, but inventory numbers remain low and are thereby pushing up home prices."
In real estate, there is a simple guideline that often applies here. Essentially, when there is less than a 6-month supply of inventory available, we are in a seller's market and we will see greater appreciation. Between a 6 to 7-month supply is a neutral market, where prices will increase at the rate of inflation. More than a 7-month supply means we are in a buyer's market and can expect depreciation in home values (see below):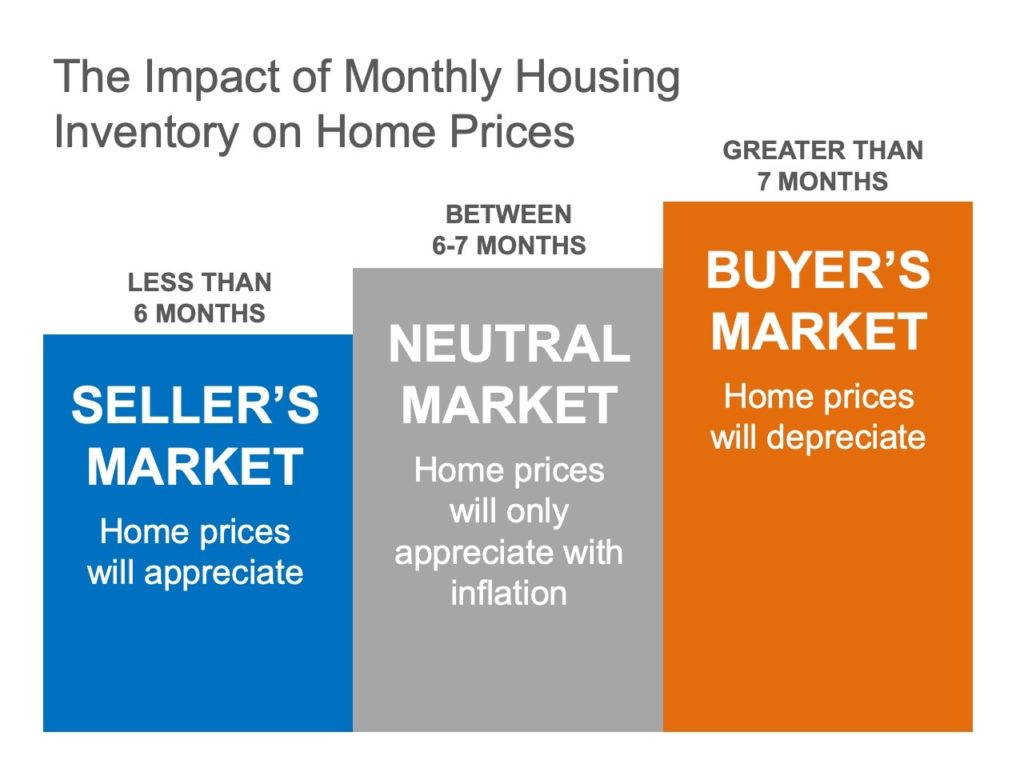 As we mentioned before, there is currently a 4.1-month supply of homes on the market nationally, and a 6.6-month supply on Staten Island.
The Existing Home Sales Report also shows that 49 percent of properties were on the market (nationally) for less than a month when they were sold. In August, properties sold nationally were typically on the market for 31 days. On Staten Island, the average number of days on market in September was 92.
As Yun notes, this should continue,
"As expected, buyers are finding it hard to resist the current rates…The desire to take advantage of these promising conditions is leading more buyers to the market."