STATEN ISLAND, N.Y. – Real estate professionals and others making a positive mark in Richmond County were recently lauded by the Staten Island Board of Realtors (SIBOR).
The honor ceremony took place Oct. 24 during SIBOR's Annual Membership Meeting at the Hilton Garden Inn, Bloomfield.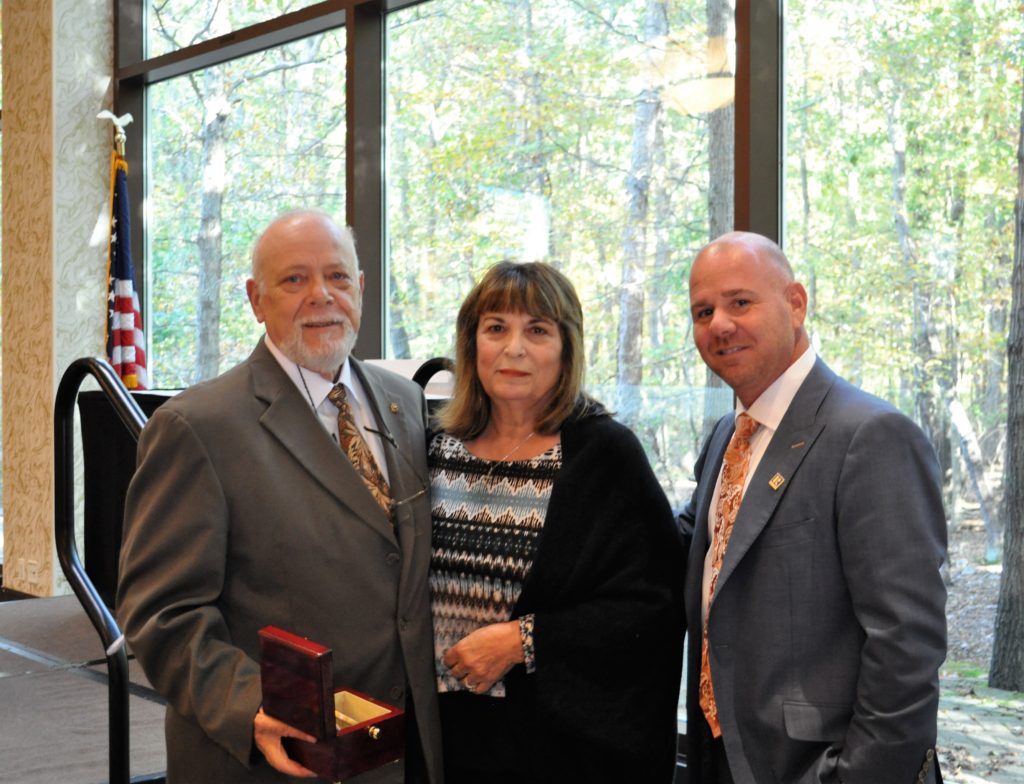 "Staten Island's Realtors are dedicated to helping people obtain the American dream of homeownership. Those we honor today, as in years past, are standouts within our industry and within our community. They enrich the lives of many others, as does today's Community Service Award recipient, Philip Guarnieri. It's an honor to have them as friends and colleagues," said Scott Setaro, 2019-2020 SIBOR president.
REALTOR SERVICE AWARD
The William (Bill) Coull Realtor Service Award was presented to Fred Shayewitz.
The award is given to a SIBOR Realtor who has distinguished him or herself for many years in service to the industry and the community. The late Coull, for whom the honor is named, was a founding member of the Staten Island Multiple Listing Service (SIMLS) and the Richmond County Real Estate Institute.
"Fred is the kind of person this award was created for. A significant number of today's SIBOR REALTORS were in a Fred Shayewitz pre-licensing course and/or one of his CE (continuing education) classes. He has had a major impact on the local industry," said Sandy Krueger, CEO of SIBOR.
Shayewitz is both a real estate and mortgage broker. His Staten Island-based firms, Richmond Homes Real Estate, which he launched with his wife, Peggy, and Richmond Homes Financial Services were founded in 1984 and 1986, respectively.
An industry expert, Shayewitz has been a teacher at the Richmond County Real Estate Institute for more than three decades.
Retiring as a sergeant from the U.S. Air Force following four years of service in the 1960s, Shayewitz flirted with a Wall Street career and then transitioned into a city government job. In 1976, he earned an associate degree in Applied Science from Kingsborough College, where he majored in accounting and business administration, and continued his studies at Baruch college.
But it wasn't until 1978, upon receiving his real estate sales license and accepting a position with the former Piro Real Estate in Eltingville, that Shayewitz found his true calling, inspiring him to further his studies. He earned his broker's license five years later, and expanded his entrepreneurial endeavors by venturing into residential construction.
A past-president of SIBOR, past-president of the South Shore Rotary Club and board member of the South Shore Business Improvement District, Shayewitz was honored with SIBOR's Realtor of the Year Award in 1996.
Over many years, he has contributed to the Staten Island community and the real estate industry in numerous ways, having served as: Chairman, Staten Island Multiple Listing Service; member, Richmond County Real Estate Institute Board of Governors; board director, New York State Association of REALTORS®; chairman, Staten Island Chapter of the American Red Cross; board director, Kids Against Cancer, and member of the Executive Committee, Boy Scouts of America, to name just a few.
Mr. and Mrs. Shayewitz reside in Annandale. The couple have four daughters and six grandsons.
REALTOR OF THE YEAR
Kept under wraps until the gathering were SIBOR's 2019 Realtor of the Year and Realtor Associate of the Year awards, presented to Celia Iervasi and Bella Grossman, respectively.
Celia Iervasi, an associate broker at Casandra Properties Inc., is well-recognized for her professionalism, dedication and integrity in the real estate industry. A member of SIBOR's Hall of Fame, she has facilitated real estate sales in excess of $100 million dollars over the past 10 years, and is a multi-time recipient of SIBOR's Gold Top Producer Award.
lervasi's extensive history of volunteerism has been recognized by both the New York City Council and New York State Legislature. She was awarded the Joseph Criselli Award for Community Service, was honored by the YMCA, and lauded as a Hero for her Sandy Relief Efforts.
Iervasi is chairperson of the Staten Island YMCA Counsel Center; a member of the YMCA Board of Managers; vice president of the Ralph J. Sansone Foundation; a member of Community Board 3, Land Use Committee; and president-elect of the Verrazano Kiwanis Club.
The Brooklyn native resides in Eltingville with her husband, Dominick. The couple have three children and five grandchildren.
REALTOR ASSOCIATE OF THE YEAR
Embracing her motto, "Honesty, Integrity, Knowledge and Dedication," Bella Grossman has been a SIBOR member since 2004.
In 2018, she was presented the SIBOR Hall of Fame Award, having been a Top Producer for 10 continuous years.

Grossman had worked in the furniture industry for nearly 25 years before entering the real estate industry. Upon earning her real estate license, she began her real estate career with Abiding Real Estate.
She next joined Alex Levin at the former SI Dream House Realty, presently NextHome Prestige Realty, and has worked with Levin since 2006.
A native of Lithuania, Grossman relocated to Israel, where she and her husband, Arkadi, were wed. The couple immigrated to Brooklyn, N.Y., in 1982, and have resided in Great Kills since 1989.
Over the years, the couple, who have a daughter and son, and two children, have made great friendships and lasting memories on Staten Island.
Grossman supports her colleagues in a variety of ways, such as serving on SIBOR's Global and Nominating committees, and participating in Agent Roundtable workshops. She additionally volunteers to mentor new agents. "I love doing that and sharing my knowledge with them," she said.
COMMUNITY SERVICE AWARD
Philip Guarnieri was presented with SIBOR's Community Service Award. He is the chief executive officer of ES Bancshares, Inc. and Empire State Bank.
In 2004, he was instrumental in the organization and the chartering of Empire State Bank, a bank providing commercial banking products and services to the communities in the Tri-State area. Through Guarnieri's oversight and strategic planning, the bank has grown to over $400 million in assets and has become a banking leader in the small business community. He received his B.A. in Banking and Finance from Hunter College before completing a continuing education program on Real Estate and Commercial Bank Lending at New York University.
As an active member of the community, Guarnieri is a director of the Empire State Bank Foundation; a director and vice chairman of the Grace Foundation of New York; a director of the Staten Island Economic Development Corp.; a director of both the Staten Island and Brooklyn Chambers of Commerce; a board member and treasurer of the Asian Real Estate Association of America, Brooklyn Chapter; a board member of the Hudson Valley Pattern of Progress; a director of the New Dorp BID; a director of the Victory Boulevard Merchants Association, and a financial advisory board member of the Dominican Sisters of Hope.
AFFILIATE OF THE YEAR AWARD
Kristin Palmeri of Palmeri Law was honored with SIBOR's Affiliate of the Year Award. A seasoned attorney, she began her career on Wall Street as a real estate practitioner specializing in New York and New Jersey transactions.
Palmeri's philosophy is to provide unparalleled customer service. Her tireless dedication often yields loyal client relationships, wherein clients retain her on multiple occasions to venture through the gamut of purchase, refinance and sale. Her analytical skills and creativity allow her clients to be engaged throughout their real estate journey.
Palmeri serves on the Membership Committee of her BNI Networking Group and enjoys all of SIBOR's networking opportunities, as well as all activities related to bettering the Staten Island community. She and her husband, Thomas, are the proud parents of 5-year-old Theresa Rose Palmeri.
About the Staten Island Board of REALTORS® (SIBOR)
Established in 1915, the Staten Island Board of REALTORS® (SIBOR) is the largest professional association in Staten Island, N.Y.
SIBOR exists to enhance the ability and opportunity of its members to conduct their business successfully and ethically, and promote the preservation of the public's right to own, transfer and use real property.
Comprised of more than 2,000 members, SIBOR serves real estate agents, brokers and affiliated professionals throughout the borough and surrounding areas.
SIBOR is the provider of the Staten Island Multiple Listing Service Inc. (SIMLS), which works as a clearinghouse through which more than 250 local real estate firms exchange information on properties they have listed for sale. Together, its members participate in over 5,000 real estate transactions every year.
All SIBOR Realtors belong to the New York State Association of REALTORS® (NYSAR) and the National Association of REALTORS® (NAR).
SIBOR may be reached at 718-928-3220 and viewed online at SIBORREALTORS.com. SIBOR may also be visited on Facebook at Staten Island Board of Realtors,on Twitter via @SIBOR, and on Instagram at SIBOR REALTORS (siborrealtors).
###
Media Contact: Barton Horowitz
Relevant Public Relations, LLC
Headquarters: 718‑682‑1509
Mobile: 917‑715‑8761
Email: BHorowitz@RelevantPR.com