FOR IMMEDIATE RELEASE: FRIDAY, JUNE 19, 2020
Island Realtors Donate $3,335 Raffle Proceeds to RUMC for Personal Protective Equipment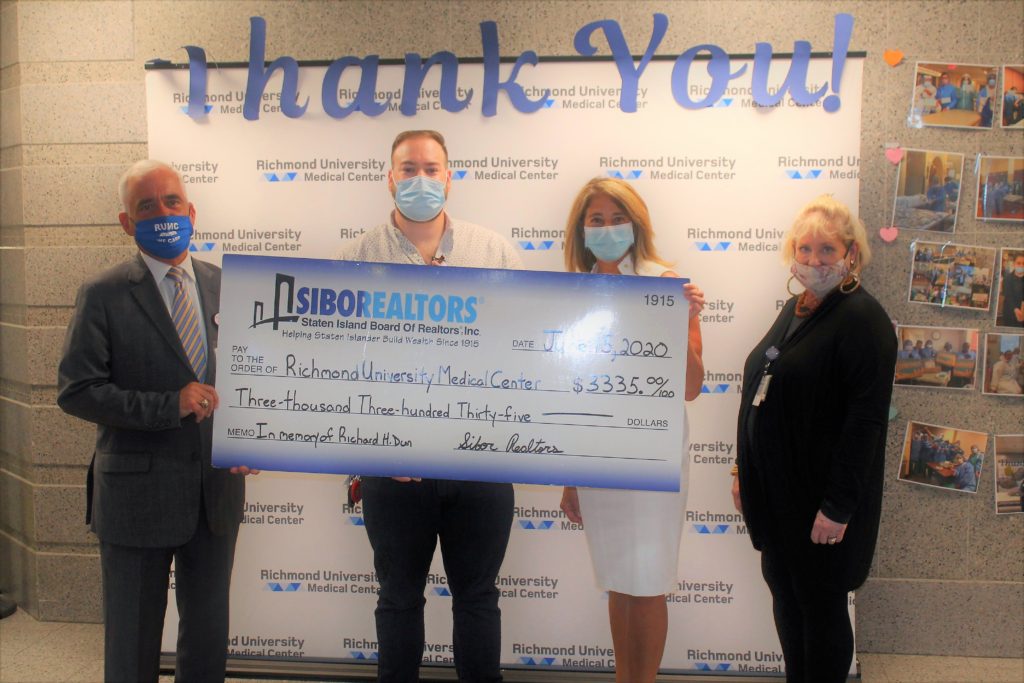 STATEN ISLAND, N.Y. — Representatives of the Young Professionals Network (YPN) of the Staten Island Board of Realtors®  (SIBOR) recently stopped by Richmond University Medical Center (RUMC), West Brighton, to deliver a $3,335 donation.
The funds, earmarked for the purchase of personal protective equipment (PPE) for frontline employees at the medical facility, were raised in May during a "Virtual Relief Raffle" on behalf of hospital workers.
The contribution was made in memory of YPN member Richard Dun's father, Richard H. Dun, who passed away April 25 due to COVID-19.
Those who donated to the fundraising effort were entered in the raffle for a chance to win specific raffle prizes with each $5 or $10 donation they made.
An array of prizes was offered; for example: Half-off Multiple Listing Service dues (for Realtor Members of SIBOR); Zoom tutor sessions; Netflix or Hulu subscriptions; and gift cards for Amazon, UberEats, and a variety of Staten Island businesses, such as Ariana's South; Violette's Cellar; Joe & Pat's; A&C Superette and Salumeria; Italianissimo Restaurant, and more. Sponsors included such businesses as Weichert, Realtors® – Evolution Group; Dawning Real Estate; Century 21 Papp Realty; Ariana's South; Violette's Cellar, and A&C Superette and Salumeria.
###
Media Contact: Barton Horowitz
Relevant Public Relations, LLC
Headquarters: 718‑682‑1509
Mobile: 917‑715‑8761
Email: BHorowitz@RelevantPR.com