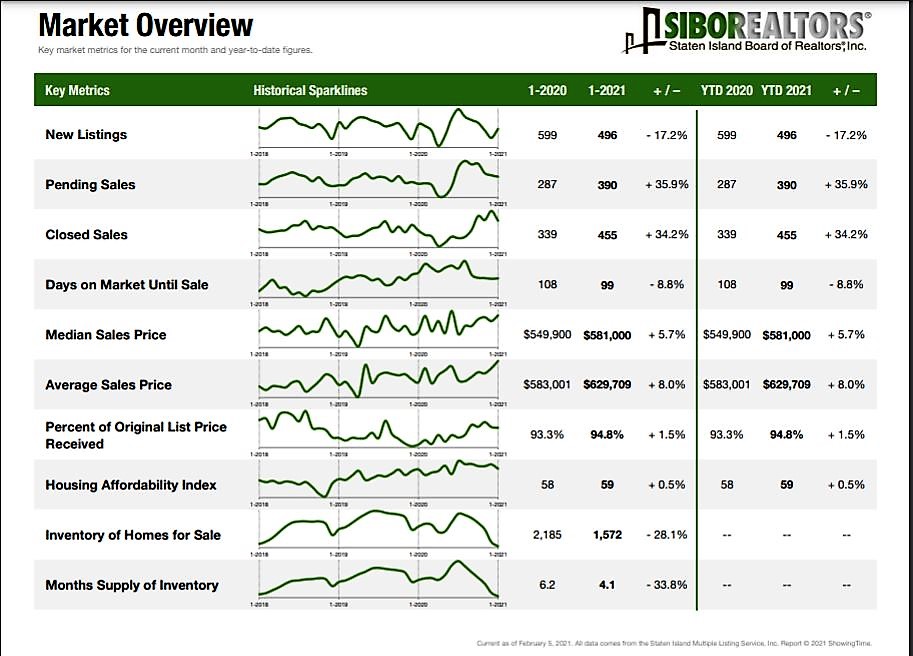 FOR IMMEDIATE RELEASE: THURSDAY, FEB. 11, 2021
Report: Staten Island Pending Home Sales Robust in January
STATEN ISLAND, N.Y. – January started off strong nationwide for the housing market, with robust buyer demand and strong market fundamentals. A healthy increase in housing starts in December points to an active year for new construction, but higher material costs, especially lumber, and a limited supply of buildable lots may temper the number of new units.
According to the latest data from the Staten Island Board of REALTORS® (SIBOR), new listings on the Island in January decreased 17.2 percent to 496, as compared to the same month a year earlier. Pending sales were up 35.9 percent to 390 for the same period, and inventory levels fell 28.1 percent to 1,572 units.
Prices continued to gain traction on the Island last month, with the median sales price having increased 5.7 percent to $581,000, as compared to January 2019. The days on market statistic for the month was down 8.8 percent to 99 days. Sellers were encouraged as the months supply of inventory in January was down 33.8 percent to 4.1 months.
The Mortgage Bankers Association's January research estimates approximately 2.7 million U.S. homeowners with mortgages are currently in forbearance plans. Some of these homes may eventually come to market, but given the strong appreciation in most market segments in recent years, these eventual home sales are likely to be mostly traditional sellers. However, a modest increase in short sales and foreclosures at some point this year would not be surprising.
About the Staten Island Board of REALTORS® (SIBOR)
Established in 1915, the Staten Island Board of REALTORS® (SIBOR) is the largest professional association in Staten Island, N.Y.
SIBOR exists to enhance the ability and opportunity of its members to conduct their business successfully and ethically, and promote the preservation of the public's right to own, transfer and use real property.
Comprised of more than 2,300 members, SIBOR serves real estate agents, brokers and affiliated professionals throughout the borough and surrounding areas.
SIBOR is the provider of the Staten Island Multiple Listing Service Inc. (SIMLS), which works as a clearinghouse through which more than 250 local real estate firms exchange information on properties they have listed for sale. Together, its members participate in over 5,000 real estate transactions every year.
All SIBOR Realtors belong to the New York State Association of REALTORS® (NYSAR) and the National Association of REALTORS® (NAR).
SIBOR may be reached at 718-928-3220 and viewed online at SIBORREALTORS.com. SIBOR may also be visited on Facebook at Staten Island Board of Realtors, Twitter via @SIBOR and Instagram at SIBOR REALTORS (siborrealtors).
###
Media Contact: Barton Horowitz
Relevant Public Relations, LLC
Headquarters: 718‑682‑1509
Mobile: 917‑715‑8761
Email: BHorowitz@RelevantPR.com