STATEN ISLAND, N.Y. (NOV. 18, 2022) – The Staten Island Board of Realtors® (SIBOR) will mark the 22nd chapter of its annual Adopt-A-Senior program in December by bringing holiday joy to residents of local senior care facilities.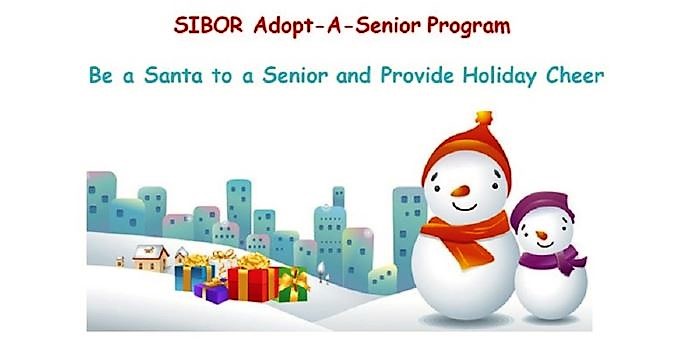 In the days leading up to the holidays, the goal is to deliver hundreds of personally requested gifts that are donated by SIBOR members and caring Islanders. The gifts are given to Island seniors who are alone, mainly without family, friends or loved ones to be with them. As in past years, the presents will be hand delivered by SIBOR volunteers, family members and friends.
Participating nursing homes include: The Esplanade at Staten Island; Silver Lake Specialized Care Center; Verrazano Nursing Home; Carmel Richmond Healthcare and Rehabilitation Center; ArchCare senior center; Eger Harbor House; Golden Gate Rehabilitation and Health Care Center; Sea View Hospital Rehabilitation Center and Home; Staten Island Care Center, and Clove Lakes Health Care and Rehabilitation Center.
SIBOR is assembling a personal wish list of items submitted by facility residents, which commonly include such things as games; books; puzzles; hand lotions; makeup; face cream; perfume and cologne, and warm-weather clothing, such as: Sweaters; scarves; hats; socks; gloves; pajamas; undershirts; jogging outfits, and undergarments.
"It usually turns out that many of the residents are past recipients. The care facilities assist us in directing the gifts to the appropriate people," said Annmarie Izzo, SIBOR special event coordinator.
HOW TO CONTRIBUTE
It's easy to assist in this worthy holiday-time program. Simply, email Annmarie Izzo at annmarie@sibor.com, or call her at 718-928-3223, and let her know you would like to "Adopt a Senior." She will provide you with the name of a facility resident and his or her wish-list request. You may then shop for the item, or make a monetary contribution.
About the Staten Island Board of Realtors® (SIBOR)
Established in 1915, the Staten Island Board of Realtors® (SIBOR) is the largest professional association in Staten Island, N.Y.
SIBOR exists to enhance the ability and opportunity of its members to conduct their business successfully and ethically, and promote the preservation of the public's right to own, transfer and use real property.
Comprised of approximately 2,500 members, SIBOR serves real estate agents, brokers and affiliated professionals throughout the borough and surrounding areas.
SIBOR is the provider of the Staten Island Multiple Listing Service Inc. (SIMLS), which works as a clearinghouse through which more than 275 local real estate firms exchange information on properties they have listed for sale. Together, its members participate in over 5,000 real estate transactions every year.
All SIBOR Realtors belong to the New York State Association of REALTORS® (NYSAR) and the National Association of REALTORS® (NAR).
SIBOR may be reached at 718-928-3220 and viewed online at SIBORREALTORS.com. SIBOR may also be visited on Facebook at Staten Island Board of Realtors, Twitter via @SIBOR and Instagram at SIBOR REALTORS (siborrealtors).
###
Media Contact: Barton Horowitz
Relevant Public Relations, LLC
Headquarters: 718‑682‑1509
Mobile: 917‑715‑8761
Email: BHorowitz@RelevantPR.com