Staten Island Board of Realtors® hosts daylong event with celebration of outstanding members' performance preceding its annual Realtor EXPO
Staten Island, N.Y. – The Staten Island Board of Realtors® (SIBOR) honored its best-achieving members of 2022, its "Top Producers," during a daylong event March 30, which included an awards breakfast followed by the organization's Realtor EXPO at the Hilton Garden Inn, Bloomfield.
Hundreds of real estate agents and brokers attended the morning awards ceremony. The breakfast event was co-chaired by Robert Coppolino of RE/MAX Elite and Matthew Jablonsky of Coldwell Banker Advantage, and sponsored by Home Team Movement Mortgage.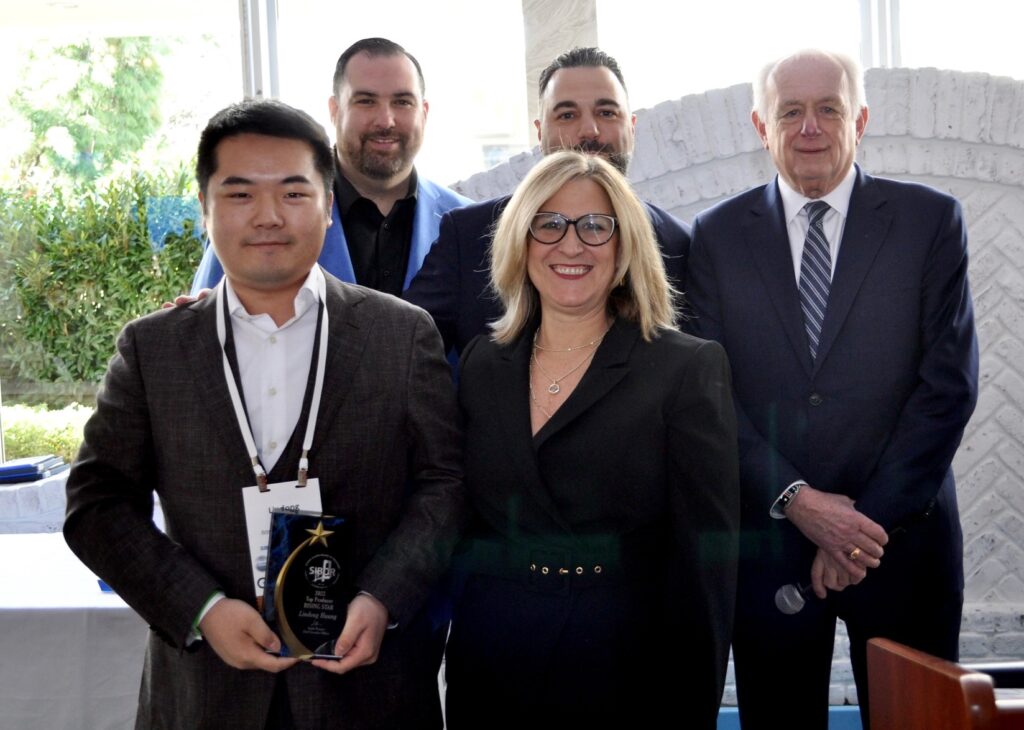 The SIBOR Top Producer award is an annual recognition given to real estate agents who have shown outstanding results in terms of the number of transactions closed throughout the year. Winners have demonstrated exceptional skills in communication, negotiation, market knowledge, and client satisfaction, all of which are vital to success in the real estate industry.
"Today we celebrate the achievements of the SIBOR Top Producer award winners, including individuals and teams, the Rising Star award winner, and the two Hall of Fame recipients. We're proud of them all," said Rosanne La Fata, president of SIBOR. "These individuals and teams have consistently demonstrated excellence in the real estate industry, maintaining high standards of professionalism and ethics, and building lasting relationships with their clients."
Among the honored Realtors were SIBOR Top Producer Hall of Famemembers Gail Sweeney and Anthony Ragucci, who were acknowledged for receiving the Top Producer Award for 20 years in a row.
Also presented, were the Top Producer Team awards led by Platinum Level recipient Richmond 1st Team of Homes R Us Realty.
Lindong Huang received the SIBOR Rising Star Award, given each year to the Top Producer honoree with the least amount of time in the real estate industry. Huang has closed an impressive number of transactions since becoming a Realtor subscriber of the Staten Island Multiple Listing Service in March 2022.
"Lindong's dedication to his clients and his willingness to go above and beyond to provide exceptional service have earned him this prestigious award," said Sandy Krueger, CEO of SIBOR.
AWARDS TO INDIVIDUALS
Recognized as the Top Producers of 2022 were the following Realtors:
GOLD LEVEL
Daniel Avissato; Albert Benzaken; Chia Chen; Cindy C. Cheung; Kawing Chiu; Samantha Conca; JoAnn DellaRocca; Lori A. Ficarra; Dritan Tony Gashi; Maged Girgis; Ann Grande; Yu Wing Ho; Kin Wa Lam; Tsun Ming Lau; Weiping Liang; Huan Kuei Lo; Gaetano Marasa; Nicole Molinini; C. Michel Scibetta -Nicolo; Leeya Qiu; Anthony Ragucci; Francis A. Shearon; Salvatore Taormina
SILVER LEVEL
Eric Bacelli; Kathleen Barzal; Jason Blake; Ross Buxbaum; Teresa Carmona; Victoria Cavicchio; Hui Chen; Cristina Dattolo; Andres D. David; MaryAnn DeMagistris; Christopher DiToro; Skender Alex Fici; Hong Agnes Fong; Ilona Fotiadou-Bludov; Mary T. Giordano; Jaccob Halpern; Tianting Huang; Jia Huang; Teresa Ieraci; Krzysztof Kania; Jin Cun Kuang; Albee Lei; Wen Lin; Christopher J. Long; Kristen Mezzacappa; Allison Mireau; Robert J. Nixon; Marylou Palladino; Salvatore Settepani; Thomas P. Smith; Mingqin Sun; Gail R. Sweeney; Nicholas Tortora; Laura B. Vallone; Inna Vayser; Wan Qing Wu; Joyce Yu; Jiecheng Zhang; Stephanie Zhang; Rihao Zheng; Jian Yin Zhong; Natalia Zukhovich
BRONZE LEVEL
Marion Alameda; Robert Bianco; Frances Brischo; Sandra Cascio; Audrey Casso; Laura Catuogno; Ping Chan; Frank Chirichella; Becky B. Chum; Gloria Craven; RoseAnn Crecca; Chanpen Cronin; Elizabeth Del Priore; Cathy Diecidue; Rosanna Dunadee; Mary Faulds; Kathleen Feola; Joseph Gerber; Monica Girgis; Kim Goh; Lindong Huang; Meina Huang; Bingling Jiang; Joanna Kaszuba; Dominick Landolfa; Angela Leaver; Yongda Simon Liang; MeiJuan Lin; Edmond Lin; William Lin; Nilka Magarino; Joyce Marchione; Linda Moccia; Svetlana Noll; Neila Nuzzi; Mary Jane O'Connell; Lauren M. Orosz; Svetlana Pascarella; Kristina Patafio; Esther Perlstein; Margaret Power; Jeanette Rasmussen; Liuhong Ren; Jimmy Samaha; Ka Chun Sze; Cosimo Tacopino; Shi Cui Tang; Vicki Tassone; Nina Timpone; Ola Tleis; Teresa G. Trovello; Anthony Volpe; Rob Volpe; Catherine A. Volpe; Michele Weidmyer; YanFen Fanny Y Yang; Shu Yu Zeng; Qin Lin Zhang; Duanwen Zheng; Allan Zhu
TEAM AWARD RECIPIENTS
Awards for outstanding performance as a team were presented to:
PLATINUM LEVEL
Richmond 1st Team of Homes R Us Realty
GOLD LEVEL
The Executive Group of RE/MAX Elite; FINEST Team of RE/MAX Elite ; The McKenna Team of RE/MAX Edge
SILVER LEVEL
24 K Group of Robert DeFalco Realty; Crossing Bridges Team of Keller Williams Realty Staten Island; Team KG Homes of Robert DeFalco Realty
BRONZE LEVEL
The Elite Team of Mark International Real Estate; The Lonuzzi Team of Compass Greater NY; The Mesa Team of RE/MAX Edge; The Platinum Group of RE/MAX Elite; The Stellar Group of Coldwell Banker Advantage; The Zappulla Team of RE/MAX Elite
COMMERCIAL REAL ESTATE AWARDS
Realtors Brian McGowan and Robert Nixon were each recognized for outstanding commercial activity.
About the Staten Island Board of Realtors® (SIBOR)
Established in 1915, the Staten Island Board of Realtors® (SIBOR) is the largest professional association in Staten Island, N.Y.
SIBOR exists to enhance the ability and opportunity of its members to conduct their business successfully and ethically, and promote the preservation of the public's right to own, transfer and use real property.
Comprised of approximately 2,500 members, SIBOR serves real estate agents, brokers and affiliated professionals throughout the borough and surrounding areas.
SIBOR is the provider of the Staten Island Multiple Listing Service Inc. (SIMLS), which works as a clearinghouse through which more than 275 local real estate firms exchange information on properties they have listed for sale. Together, its members participate in over 5,000 real estate transactions every year.
All SIBOR Realtors belong to the New York State Association of REALTORS® (NYSAR) and the National Association of REALTORS® (NAR).
SIBOR and the Staten Island MLS may be reached at 718-928-3220 and visited online at MLSsiny.com.
Social media content pertaining to SIBOR and the Staten Island MLS is available on Facebook at Staten Island Board of Realtors, LinkedIn at Staten Island Board of Realtors, Twitter via @SIBOR and Instagram at SIBOR REALTORS (siborrealtors).
###
Media Contact: Barton Horowitz
Relevant Public Relations, LLC
Headquarters: 718-682-1509
Mobile: 917-715-8761
Email: Bhorowitz@RelevantPR.com