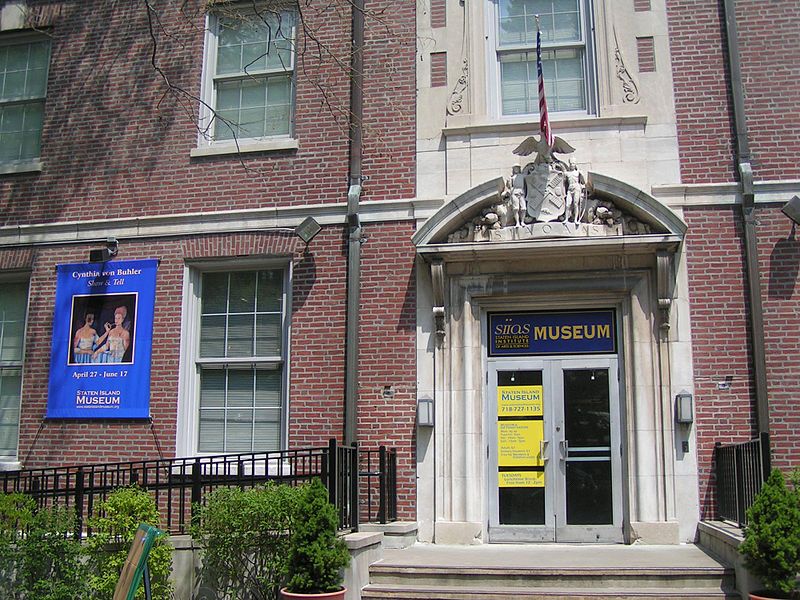 Source: Wikipedia

The Staten Island Museum is located in the St. George section of Staten Island and is only a short walk from St. George's Ferry Terminal. The Museum charges minimal admission, is wheelchair accessible, and offers free admission between noon and 2 pm Tuesday afternoons. The Staten Island Museum, founded in 1881, is one of the City's only remaining general interest museums. It seeks to "engage visitors with interdisciplinary exhibitions and educational programs that explore the dynamic connections between natural science, art, and history based on its diverse collections."
The Staten Island Museum possesses a well-rounded collection. Its art collection ranges from 10th Century Indian sculptures to Italian Renaissance paintings to prints by the likes of John J. Audubon, Robert Indiana, Henri de Toulouse-Lautrec, Marc Chagall, and Andy Warhol. Additionally, the museum contains over 10,000 shells, more than 1,000 fossils, and over 35,000 cicadas, the second largest collection in the world. The museum also offers rotating special exhibits and special programming, including frog and bird watching.
Source: Staten Island Museum
In June 2011, the Museum broke ground on its new home, which will be located in a historic Snug Harbor building. The museum's new home was originally built in 1879 to serve as a dormitory for "aged, decrepit, and worn-out sailors." The redesign of the 18,000-square-foot building into a state-of-the-art, 21st-century museum was done by Gluckman Mayner Architects.
Upon entering, visitors will be greeted by a full scale mastodon replica. From there, visitors will be able to explore the Museum's fossil collection, Hall of Natural Sciences, and collection of Hudson River School paintings on the first floor. On the second floor, visitors will see Egyptian, Greek, and Roman objects; Renaissance paintings; medieval armor; Native American sculptures; and African art. As the museum is reborn in its new home, it will continue to serve not only as a destination for Staten Island residents but also as a reason for everyone else to visit Staten Island.
Businesses Mentioned Above
[blankslate_pages id="d53a0ab972f789″ type="card" show_photo="true" utm_content=""][/blankslate_pages]