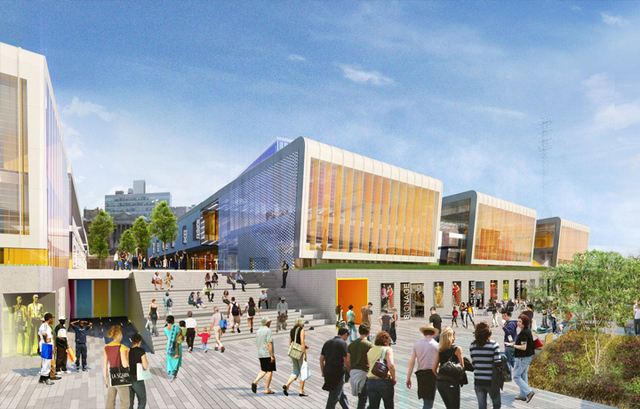 We've written before about the upcoming the St. George's Waterfront Redevelopment Project and the coming of Empire Outlets to Staten Island. If you've been living under a rock, here are the broad strokes: The world's tallest ferris wheel. 350,000 square feet of leasable retail space. Hundreds of outlet stores and restaurants. A 190-room hotel. And all a short walk from the ferry terminal.
Having trouble imagining what this is going to look like? Check out this "First Look" video, full of CGI renderings of the future Empire Outlets and St. George's Waterfront in action.
The video provides a good argument for the financial success of the project, noting that NYC gets 56 million visitors a year, and spends $8.5 billion dollars on retail. It's not much of a leap to imagine the crowds of tourists, who already flock to Battery Park to see the Statue of Liberty and New York Harbor, opting to hop onto the ferry for an afternoon of shopping. (And it would fit into their sightseeing schedule more efficiently than a bus trip to Woodbury Common.) NYC residents, too, may see this as a destination for shopping and recreation, convenient by public transportation.
One thing not mentioned in the video, of paramount importance to Staten Islanders: they are already building a 1,250-space parking garage for the mall.