Young Professionals Network of the Staten Island Board of Realtors® is hosting a 'Virtual Relief Raffle' in support of frontline hospital workers and local businesses
DONATE HERE FOR A CHANCE TO WIN: www.siborrealtors.com/page/YPN
STATEN ISLAND, N.Y. (May 1, 2020) – The Young Professionals Network (YPN) of the Staten Island Board of Realtors® (SIBOR) has launched a new initiative to provide personal protective equipment (PPE) to local hospital workers.
"During this time of uncertainty, we want to be there for our local heroes and businesses. That's why we are hosting a 'Virtual Relief Raffle' to support our frontline hospital workers and local businesses," said YPN Chairman Moe Molcho.
Contributors to the fundraising effort will be entered in a raffle drawing, and can select to be included for a chance to win specific raffle prizes with each $5 or $10 donation they make.
There is no limit on the number of times you may enter.
The prizes include such items or services as:
Half-off Multiple Listing Service dues (For Realtor Members of SIBOR only; four winners)
4 Hours of Zoom tutor sessions: 1st through 8th Grade (2 Winners)
$200 Amazon gift card
$100 UberEats gift card
$250 Ariana's South gift card
$125 Violette's Cellar gift card
$100 Joe & Pat's gift card (5 Winners)
$100 A&C gift card (10 Winners)
$200 liquor store gift card (1 winner)
$50 Italianissimo Restaurant gift card (2 winners)
One-year Netflix or Hulu Subscription, and more.
To place you donation and participate in the raffle, visit www.siborrealtors.com/page/YPN.
As of press time, sponsors included Weichert, Realtors® – Evolution Group; Dawning Real Estate; Century 21 Papp Realty; Ariana's South; Violette's Cellar, and A&C Superette and Salumeria.
The raffle drawing will take place via Zoom, May 15 at 4 p.m., during a "Virtual Snack Party." Zoom log-on information will become available prior to the live event.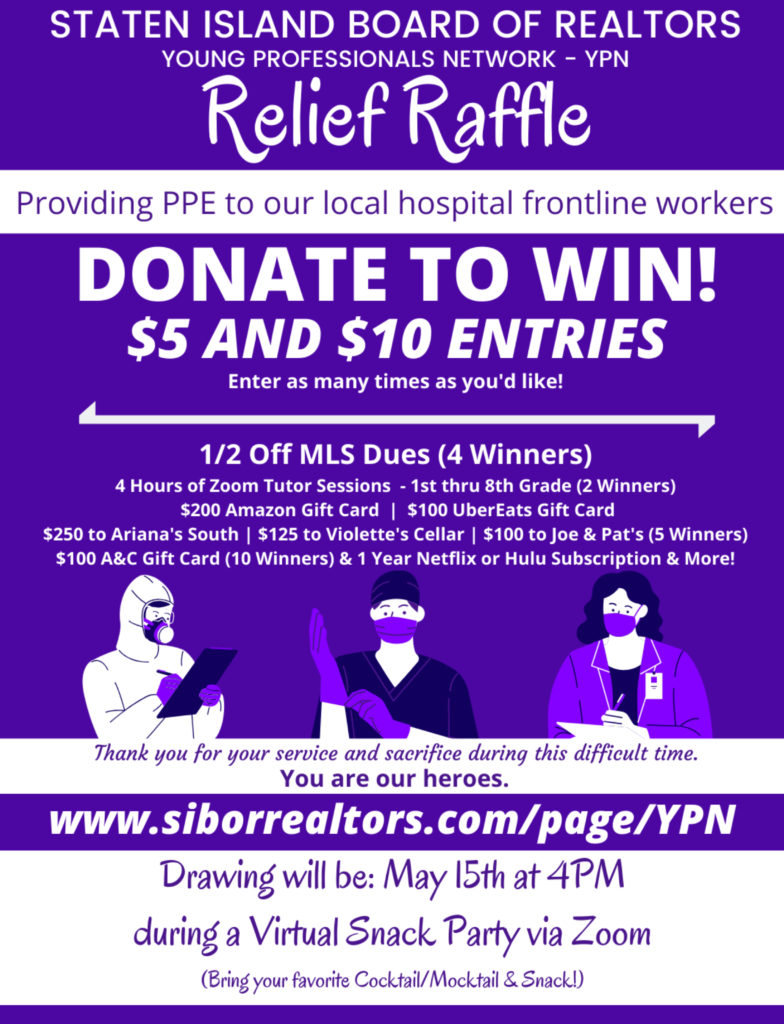 Media Contact: Barton Horowitz
Relevant Public Relations, LLC
Headquarters: 718‑682‑1509
Mobile: 917‑715‑8761
Email: BHorowitz@RelevantPR.com